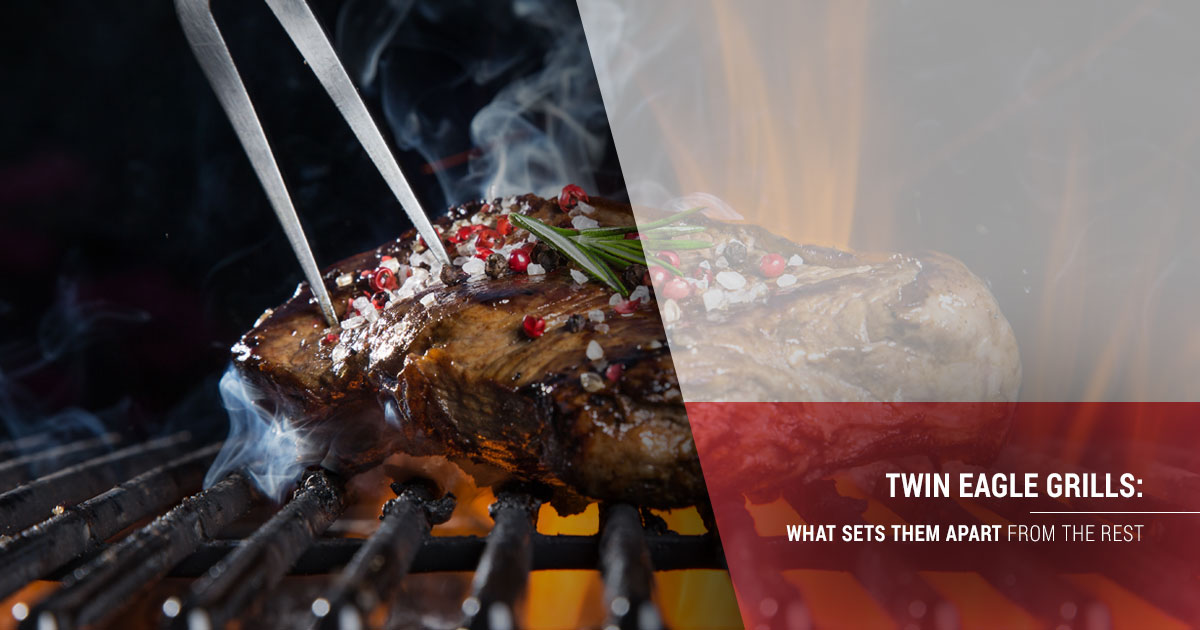 Anyone who loves grilling knows that Twin Eagles grills are some of the top-performing premium grills on the market today. Unlike cheap BBQs that lack power and get run down quickly, Twin Eagles BBQs and grills are some of the most durable, long-lasting grills — plus, they fire up quickly and pack a punch. But what exactly makes Twin Eagles grills some of the best barbecue grills we offer at 247grills.com? It all comes down to the features that add power and versatility to these incredible stainless steel propane grills and natural gas barbecues.
Infrared Rotisserie
Perhaps the main feature that sets Twin Eagles grills apart from other brands is the powerful infrared rotisserie burner that is built in to many of the different backyard gas grills we offer. This feature allows you to fire up your Twin Eagles BBQ and add a little extra crisp to chicken, turkey, kabobs, or a beef or pork tenderloin. Rather than having to order an add-on BBQ rotisserie kit online, Twin Eagles rotisserie BBQ grills come equipped with everything you need to create a beautiful, tasty masterpiece all with one infrared BBQ grill and built-in outdoor rotisserie.

Sear Burners
In addition to the infrared rotisserie, many Twin Eagles stainless steel BBQs also come with a sear zone. This is made up of several burners that work together in close proximity to produce heat much quicker than the rest of the surface, making it quick and easy to grill up some steaks or burgers perfectly in no time. All you need to do is fire up the grill, wait a minute or two, then cook the meat for one to five minutes per side, depending how you like it cooked. Check out some of the Twin Eagles grills with sear burners on our website here!
Double Side Burners
Like with the addition of the built-in infrared rotisserie, many Twin Eagles grills also come with double side burners, eliminating the need for you to order a separate double burner stove online. These double side burners sit conveniently on either side of the main grill top in order to extend the grilling capacity without becoming bulky and cumbersome to use. This feature comes in handy for summer grilling nights and backyard barbecues when you have lots of people over and need the bandwidth to prepare the food in a short amount of time.
On Cart Or Built In
Another great thing about Twin Eagles propane grills and natural gas barbecues is that they are incredibly versatile and can be integrated with your outdoor space in a variety of ways. At 247grills.com, we offer a diverse selection of built-in and freestanding door cart options that incorporate seamlessly with your back patio, whether that be in the form of a mobile cart or a sophisticated outdoor patio kitchen, complete with double burner stoves, storage drawers, and other ceramic grill accessories.
Order Your New Twin Eagles Grill At 247grills.com
We hope you enjoyed this brief overview of Twin Eagles grills and why grilling enthusiasts from all over the world are turning to Twin Eagles for their summer grilling needs. After all, what other grill brand is able to incorporate all of these incredible features into one seamless design? We'll give you a hint: very few can, except for some Delta heat grills, Lion premium grills and a few other leading grill companies.
Of course, there are many other reasons why Twin Eagles stainless steel propane grills and natural gas barbecues are some of the best best outdoor gas grills we offer. Ready to find out? Order yourself a brand new Twin Eagles BBQ at 247grills.com today!
Recent Posts
Here at 247grills.com, we are known primarily for our grilling accessories and hig …

Anyone who loves grilling knows that Twin Eagles grills are some of the top-performin …

Welcome to the 247grills.com grilling wishlist and welcome blog. In our inaugural blog, we wil …